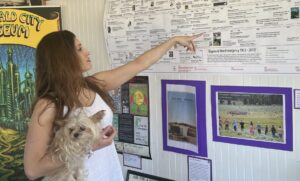 The CHC installed a display tent at Cannifest in Eureka, September 10-11 with the aim of presenting the Noah's Ark of the cannabis story.
"It's built to float in the deluge now drowning local weed and to carry forward the spirit of freedom and solidarity that, for many, brought cannabis to Humboldt – and defended it," said Holmquist, co-founder of the Humboldt Area Peoples Archive, which is an affiliate of the Counterculture History Coalition (CHC).
Holmquist's timeline "Hippies & Weed Insurgency 1972 – 2010" was among several graphic works, texts, and artifacts on display in the Counterculture History Coalition tent. 
CHC affiliates contributing to its Cannifest installation include Jerry Joffe's video-oral history project, Home Grown Stories, based in Eugene, Oregon; Richard Jergenson's Counterculture Museum Archive, in Willits, California; the Deadwood, OR-based photographer and archivist Kate Hardney; president of the Society of American Archivists, Terry Baxter, who is also an archivist with Multnomah County, OR; and Chiah Rodriques who is archiving the history of Greenfield Ranch in Mendocino County, CA.
Providing materials from further afield for CHC's Cannifest intervention are affiliated scholars, including UC Berkeley professor Greg Castillo and lecturer Lincoln Cushing (who is also the person behind Docs Populi); Dr. Paolo Stuppia of Université Paris 1 Panthéon-Sorbonne, and the University of Sidney, Australia, professor Lee Stickells.
CHC's Cannifest tent is the second such effort this year, following panel discussions and displays that the group organized at the Mendocino County Museum in March of this year, an effort led by affiliate Richard Jergenson's Counterculture Museum Archive.
Why preserve counterculture history?
"Counterculture" is a very generic word to define many values, movements, events, experiments of different ways of living and thinking, forms of artistic expression, etc., almost all born in the Sixties and that still persist today, more than three generations later.
Much has already been written about the 1960s-1970s counterculture, both by academics and participants – i.e. the Merry Pranksters' coast-to-coast bus adventures, the 1967 Summer of Love, Woodstock in 1969, communes like Black Bear Ranch in Siskiyou County or the Grateful Dead House in San Francisco, LSD, cannabis and substance (ab)use… – but much remains to be done. To fill in the gaps between famous media sensations, we bring attention to the counterculture's impact on urban and rural communities, and its continued imbrication in everyday life over the last 60 years.
We share a sense of urgency to preserve the stories of counterculture pioneers while they are alive; to save their history of back-to-the-land homesteading, organizations and actions they undertook for various purposes such as to restore and protect forests and rivers, to develop and promote organic agriculture, and to establish community-based healthcare, education, civil rights, media, crafts, and performing arts.